Does your pet need medicine now?
ScriptWorks makes "medicine-time" easy.
Giving your pet medicine can be challenging.
We're always searching for better ways to help you help them when they're sick. Our experts provide animals with compounds that promote healing and well-being. Using unique dosage forms and even flavoring when appropriate for the best results.
Veterinarians & pet lovers trust us.
Read our real success stories and case studies.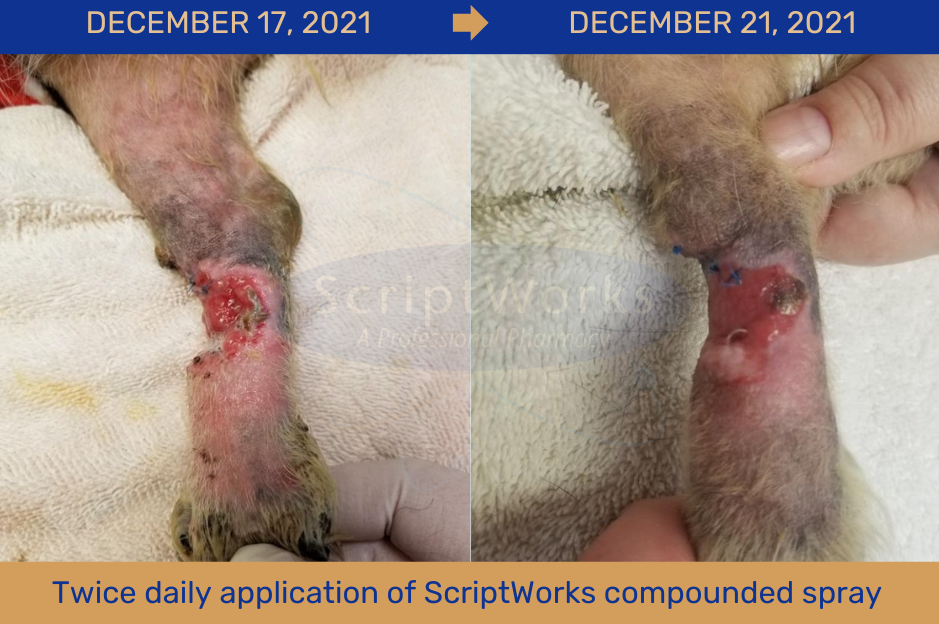 Request full access to our Animal Compounding Case Study Review
Low Dose Naltrexone uses, case studies, and dosing for dogs and cats
Bi-Phasic Gel, a ScriptWorks exclusive that's thermo-reversible (fluid when cold, gel at body temperature)
A remarkably effective burn gel formulation
Many before/after photos to illustrate progress/success with our exclusive compounded formulations.
Guidance on how to use ScriptWorks to provide animals with compounded medications
Testimonials
Explore three ScriptWorks solutions for overcoming some common animal medication challenges.
Script Tabs from ScriptWorks are tiny tablets that can be flavored, and chewed or dissolved in the mouth.
Script Tabs are an efficient and stable veterinary dosage form, and measure just 3 mm wide. They're ideal for smaller dogs and cats where a larger tablet can be tough to administer.
Script Tabs are Performance-Tested.
We sent samples to an FDA-registered analytical laboratory for testing. Some of the outstanding results are posted here.
Drug / Potency (20 samples)
Chorambucil / 95.62%
Gabapentin / 96.87%
Budesonide / 93.86%, 101%
Prednisolone / 100.00% after 90 days
Furosemide / 95.0%
Doxycycline / 103.0%
Methimazole / 103.0%
Metronidazole / 99.3%
Terbutaline / 103.0%
Ursodiol / 97.3%
Any strength 100 mg or less (drug dependent)
Script Tabs Tiny
Script Tabs Micro
Script Tabs Regular
Apple, Bacon, Banana, Beef, Bubblegum, Butterscotch, Chocolate, Cotton Candy, Grape, Grilled Tuna, Liver, Toasted Marshmallow, Peanut Butter, Salmon, Savory Chicken, Strawberry, Vanilla, Vanilla Butternut
Inflammation of the outer ear (otitis externa) is the third-leading cause of visits to the veterinary office for canines.
The traditional treatment prescribed for otitis typically involves multiple drops in the affected ear(s) multiple times a day, or more recently, a greasy lanolin-based product. These therapies can be challenging for compliance and problematic if there is a tympanic membrane fracture.
Another challenge is the need to deliver medication into the horizontal portion of the canine ear canal, which serves as a place for moisture to settle; an ideal breeding ground for infection.
ScriptWorks Bi-Phasic Gel is a problem-solver
Applied less often with dramatically better results
Applied every 7 days to enhance client compliance
Thermoreversible (fluid state when cold, gel state at body temperature)
Bioadhesive to better adhere to, and treat horizontal and vertical canals
Customized multiple ingredients (Antibiotics, Steroids, Antifungals)
Water soluble for easy flushing of the ear due to perforation
Dental abscesses in rabbits
Wound care
Dental care
Seeking opportunities to make a difference in our communities.
ScriptWorks collaborates with Veterinarians to create one-of-a-kind formulations for specific patients. For example, we donated lots of Manuka Burn Gel to treat burned kitties in the 2018 Camp Fire disaster in Paradise, California.
Our pharmacists also tailor custom antibiotics that target cultured pathogens to reduce bacterial resistance, and assist veterinarians in providing specific antimicrobial medications to their patients.
What Are Veterinarians Prescribing?
We work with California's top veterinarians to offer animals compounded medications for challenging conditions.
Does your pet need medicine now?
Animals can't wait around weeks for medications. 

Get prescriptions when they need them.
Get medications faster with ScriptWorks.
Monday – Friday, 9:00 am – 5:00 pm Walnut Creek, Concord, Martinez, San Ramon, Danville, Alamo, Lafayette and Orinda.
USPS 1st Priority Mail Overnight Mail Delivery
ScriptWorks specializes in compounded medicines for animals, and creating forms that animals love. We work hand-in-hand with veterinarians every day to help solve medicine challenges for animals of every kind.
Why do pet lovers and vets use ScriptWorks for animal medications?
Fill Prescriptions
Unique Dosage Forms
Exclusive Formulations
Custom Flavoring
Vet Collaboration
More!